Hoge kwaliteit PDO-draad Huidverstrakking Mono

Wat zijn PDO-draadliften?
Deze innovatieve niet-chirurgische faceliftbehandeling biedt een tweeledige benadering om de tekenen van veroudering te richten. Fijne draden gemaakt van polydioxanone (PDO) worden vakkundig onder uw huid geplaatst (plaatselijke verdoving wordt gebruikt) om een ​​onmiddellijk maar discreet lifting-effect te creëren dat de eerste potentiële uitkomst van de behandeling is. De tweede is een boost in de productie van collageen in de loop van de tijd, omdat de draden het stimuleren van nieuw collageen om zich heen vormen.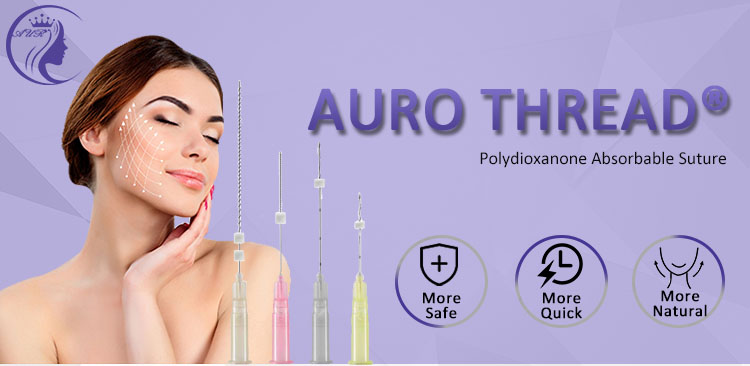 PDO-face lift is een minimaal invasieve procedure. Na verdoving en infusie van lokale anesthesie, wordt de Pcl-draadlift voor face-lift via scherpe of PDO-draadkogeldiameter 3d ingebracht in verschillende lagen van de huid. Eenmaal ingebracht, verankeren de draden de huid en heffen deze naar boven. De overtollige draden worden dan afgesneden.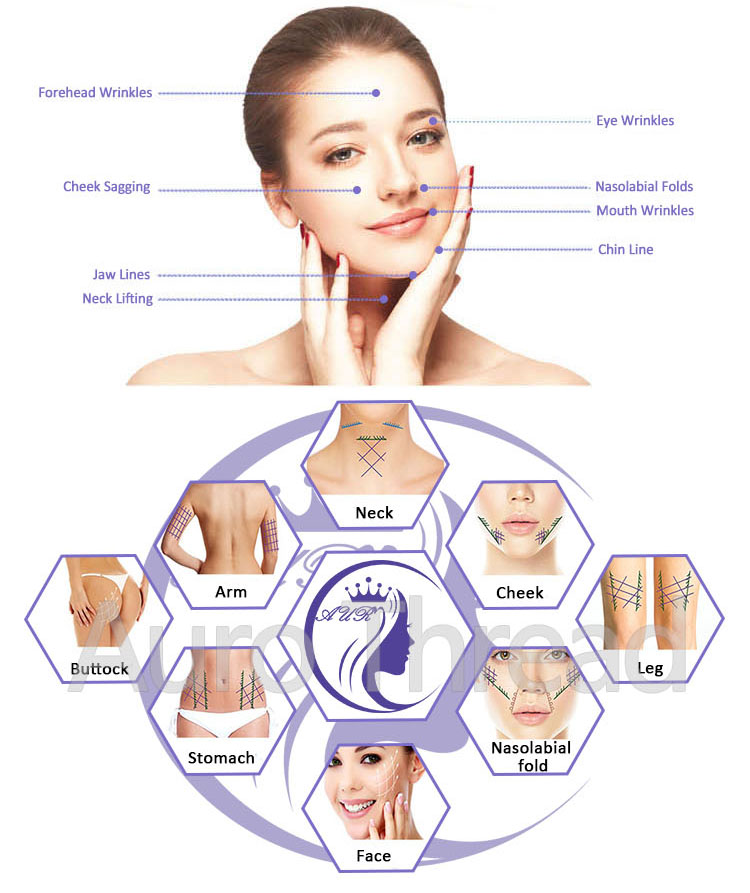 Model
Needle Size(G)
Needle Length(mm)
Model
Needle Size(G)
Needle Length(mm)
Mono
26G
30, 60mm
Mono Screw
26G
30, 60mm
27G
25, 38, 50mm
27G
25, 38, 50mm
29G
25, 38, 50, 60mm
29G
25, 38, 50, 60mm
30G
25, 38mm
30G
25, 38mm
Tornado
26G

30, 50, 60, 90mm
Tornado Screw
26G
30, 50,60mm
27G
38, 60mm
27G
38, 60mm
29G
60mm
29G
60mm
Cog 3D
19G
100mm
Cog 4D
19G
100mm
21G
60, 90mm
21G
60, 90mm
23G
60, 90mm

23G
60, 90mm
Cog 3D L Needle
18G
100, 120mm
Cog 4D L Needle
18G
100, 120mm
19G
100mm
19G
100mm
21G
50, 60, 90mm
21G
50, 60, 90mm
Cog 3D Blunt Cannula
18G
100, 120mm
Cog 4D Blunt Cannula
18G
100, 120mm
19G
100, 120mm
19G
100, 120mm
Nose Thread

19G
38, 50, 60mm
Eye Thread
30G
25, 38mm
21G
50, 60mm
25, 38mm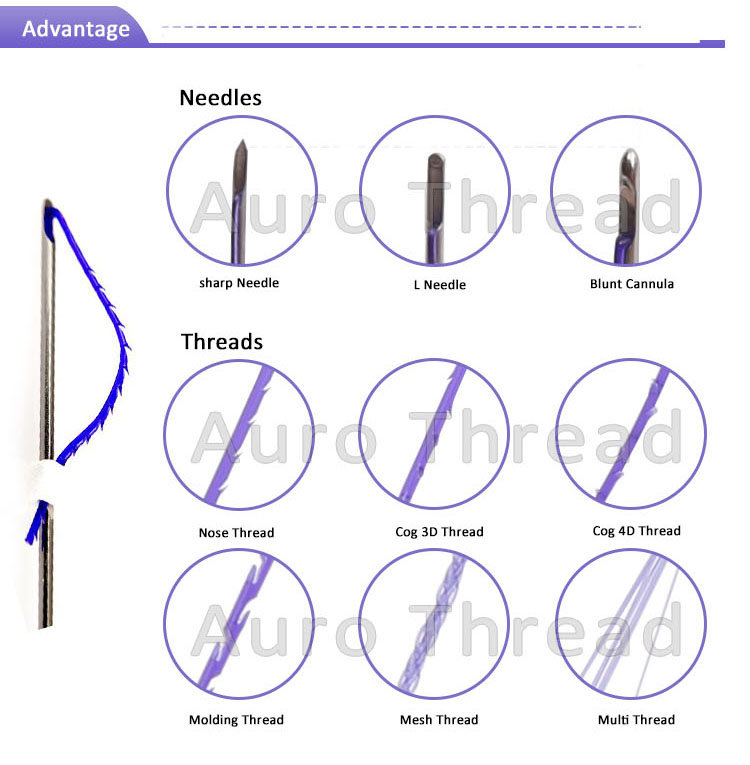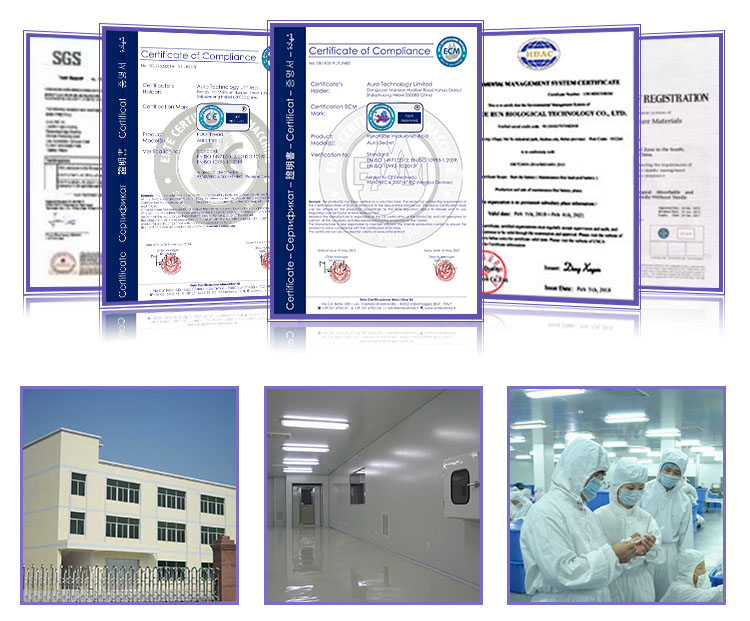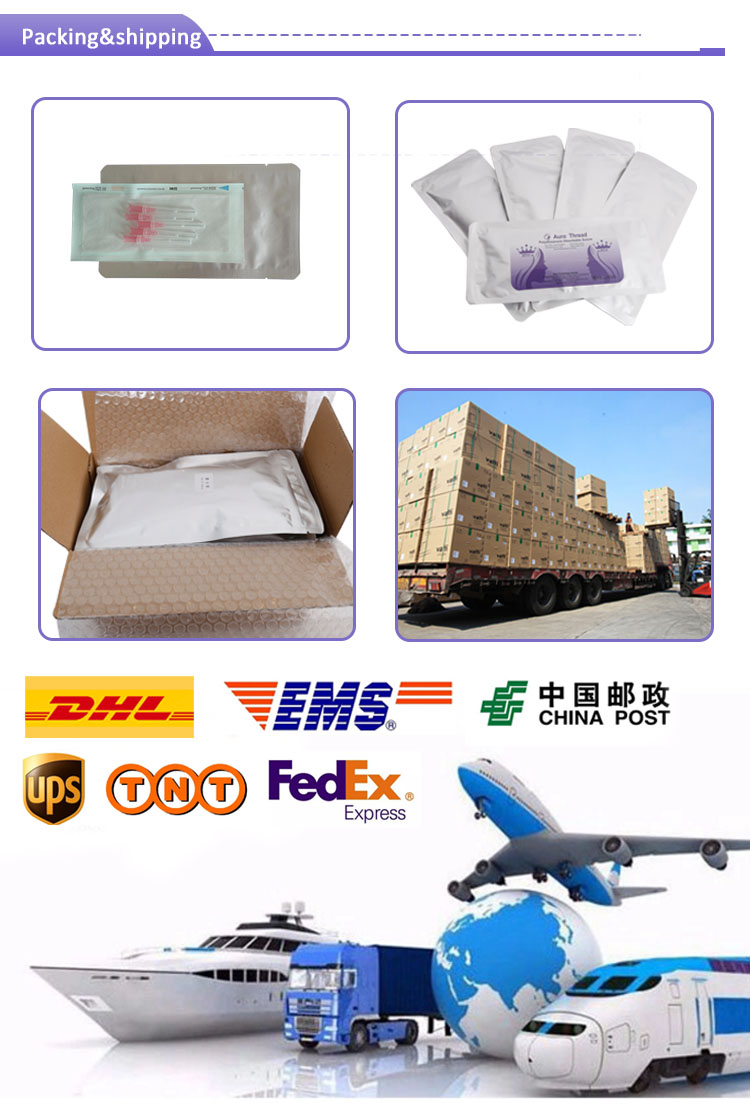 Auro Technology Limited, met een uitgebreide productportfolio, is een toonaangevende innovator van geavanceerde esthetische Liquid Facelift- technologieën. De PDO Thread Twin Thread van het bedrijf technologie stelt artsen in staat uitstekende oplossingen te bieden voor een breed scala aan medisch-esthetische toepassingen, waaronder het veranderen van het gezicht en het lichaam, het weer opduiken van de huid, het elimineren van fijne lijntjes of rimpels die littekens behandelen of het verwijderen van ongewenst haar. We hebben het gebruiksgemak, de veelzijdigheid, het intuïtieve vermogen en de waarde ingebouwd die artsen in staat stellen om te doen wat absorbeerbare pdo-hechtingen het beste doen.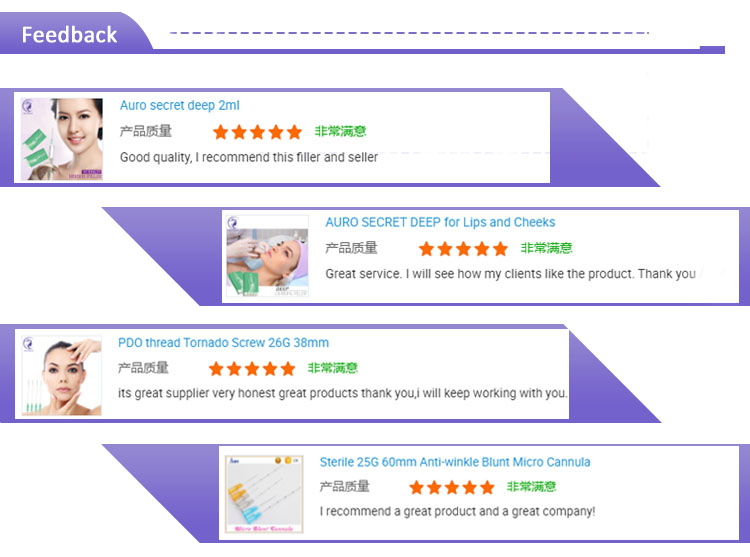 Is de L naald voor neuslift veilig?
De oorspronkelijke draadlift kwam uit eind jaren '90 en werd uitgevoerd tot het midden van de jaren 2000. De procedure viel uit de gunst vanwege inferieure technologie en complicaties. Het grootste probleem met de oudere garenliften was dat ze moesten worden verankerd in de hoofdhuid, de tempel en het voorhoofd. De knopen voor verankering moesten zorgvuldig worden vastgemaakt om de hechtdraad niet van het anker te laten komen, en de hechtdraad was permanent, waardoor verdere operaties later in het leven uitdagender werden. Nieuwere technologie met absorbeerbare Face Lifting Thread PDO , PCL Thread Facelifting en PLLA Face Lifting Thread hoeft niet te worden verankerd aan diepe weefselstructuren.
Een andere uitdaging bij oudere draadliften was dat de huid slechts in één richting kon worden getrokken, waardoor de resultaten tweedimensionaal leken. De oudere procedures vereisten ook het overhalen van de huid om een ​​goed resultaat te krijgen, waardoor de downtime groter werd. Eye Area Lifting , de technieken die nu worden gebruikt bij het plaatsen van nieuwere PDO Thread Cog 4d of hechtingen, leiden tot een natuurlijker uiterlijk, met Mesh Broom Pdo Thread zachte huidherpositionering en aanhoudende collageenstimulatie.
Product Categorie : Draadlift > PDO Discussie Mono